EnviroNize Vehicle Disinfection and Sanitation
Give Your Vehicle a Fresh, Clean Start with EnviroNize!
Now more than ever, cleanliness and sanitation is an important part of our lives, and vital to keeping us and our families safe. Your vehicle is subjected to a long list of pathogens everyday, and its important to keep it clean and safe. Listowel Ford offers EnviroNize Anolyte, a broad-spectrum disinfectant treatment with all vehicle deliveries and as a standalone product.

What is EnviroNize Anolyte?
EnviroNize Anolyte – all natural and non-toxic antibacterial/antimicrobial solution that controls a broad spectrum of bacteria, virus, fungi, and moulds. EnviroNize offers an environmentally conscious approach to meet the demands for enhanced sanitation and keep you and your loved ones safe during these trying times.
EnviroNize is 100 times more effective than household bleach, and kills more than 99.9% of harmful pathogens, including mold, mildew, bacteria, viruses and germs.
Get a fresh, clean start when you have your vehicle disinfected using the Green Auto Certified EnviroNize, available at Listowel Ford!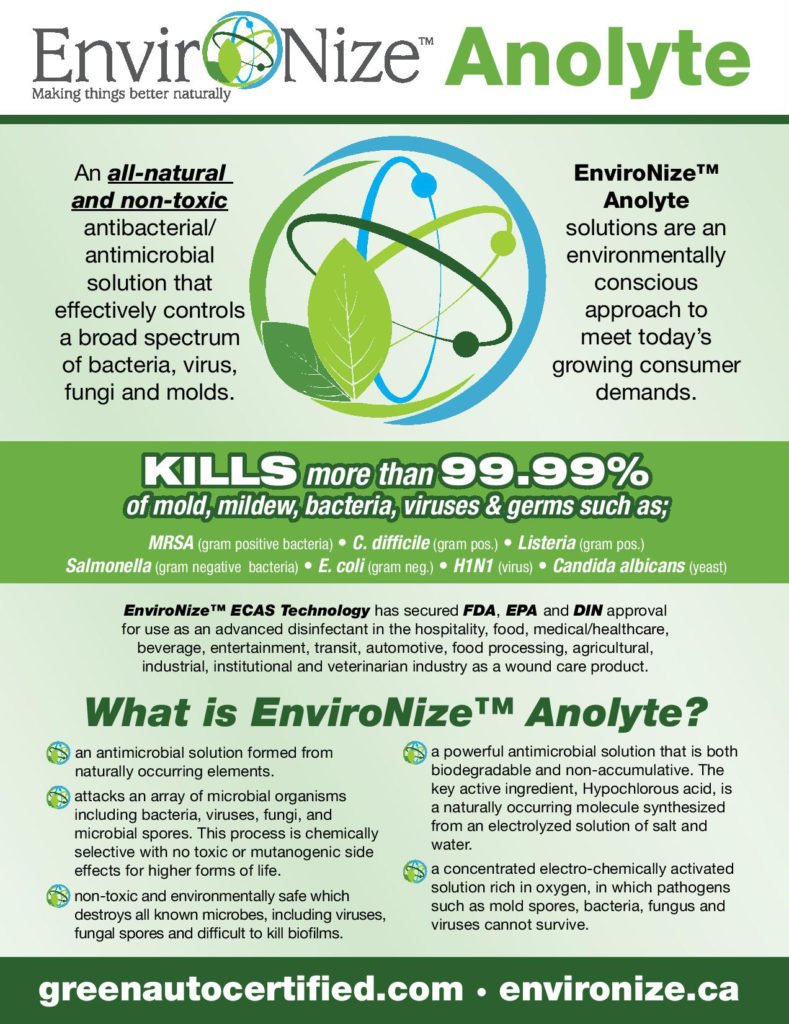 How It Works
EnviroNize is a sprayable product which is applied to every high touch touchpoint (Hot Zone) in your vehicle to kill up to 99.9% of pathogens. This product is applied after the interior of the vehicle is detailed in order to maximize its effectiveness.
All vehicles purchased from Listowel Ford will receive EnviroNize application prior to delivery for your peace of mind. Get a fresh, clean start with your new pre-owned vehicle. The EnviroNize treatment provides you and your family with:
Complete peace of mind of vehicle cleanliness from previous use;
Removal of most odors from the vehicle at the bacterial source; and
Most importantly, it is all-natural and non-toxic leaving no chemical residue.
Getting your vehicle disinfected and sanitized reduces the chances of the driver and passenger coming in contact with the harmful pathogens that are lurking everywhere!

Call Listowel Ford at (519) 291-3520 for packages and pricing, or to take advantage of our free offer for healthcare workers!