Listowel Ford is proud to have a strong community heritage and continue on the legacy of the original owner of Listowel Ford, Harvery Krotz.
Harvey Krotz Ford was owned by the Krotz family, beginning with Harvey Krotz, for 40 years, from 1952 to 1992. The store was then owned by a number of other individuals and dealer groups before Brent Ravelle purchased the store in 2017.
As a young man, Harvey worked long days (usually 12-13 hours) in a cheese factory. Before getting his days started, Harvey happily assisted his family with farm chores. As a teenager, Harvey took over his father's farm, where he not only learned the tricks of the farm trade, but also honed his skills in appliance and insurance sales.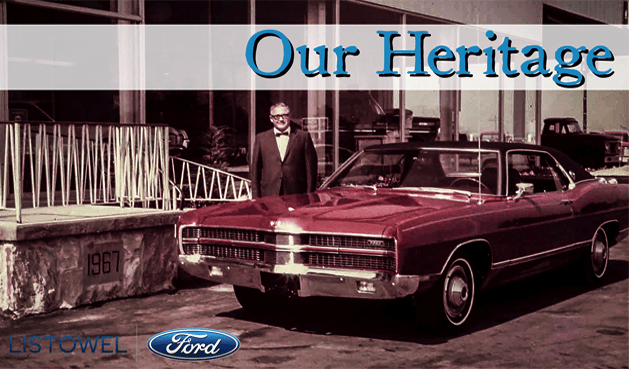 In the late 1940s, Harvey was forced to give up farming due to his asthma, and made the move to Listowel. He opened up a general insurance and real estate business, and began to make a name for himself in the small and friendly North Perth community. Shortly after moving to Listowel, Harvey met Stanley Stonehouse who changed Harvey's life and ultimately helped him reshape the framework of the Listowel community.
Stanley, the owner and operator of a Ford dealership in Listowel, approached Harvey to handle all of the Stonehouse real estate and insurance business. Little did they know this was the start of a twenty-two year friendship that spanned until Stanley passed. Harvey took on the challenge, and the two immediately became very close. After a few short years of working together, Stanley decided he was ready to take on the challenge of expanding his Ford dealership in the city of Brampton. He offered the store to Harvey, who initially said "[he] couldn't afford it and didn't have the experience. Ford didn't want [him] at the time, and the finance people (Traders at the time) didn't want [him]." For six months, from August of 1951, until May of 1952, Harvey worked to convince Ford and Traders that he'd be a suitable dealer. It was a long six months, and Harvey finally called on his old friend Stanley Stonehouse for help. Stanley jumped in, and said that whichever finance company took Harvey on would also get his business. By that time, Stanley owned three dealerships. This appealed to financier IAC, who took on Harvey so they could earn the massive Stonehouse business as well. in 1952. That first year, Harvey proudly sold 135 units. At the time, he thought that was a great number. Little did he know the store would become one of the highest producing automotive dealerships in the country.
Over the next few years, the company expanded rapidly. By 1962, Harvey established a separate tractor division. During the ten years between 1952 and 1962, the car and truck sales division also grew rapidly, to the point where four adjoined residences were removed to expand the lots of Harvey Krotz Ford. The massive automotive complex dozens of Listowel residents (no small feat at the time!) and provided vehicles of all sorts to people all over Southwestern Ontario. At the time, there was nothing like it anywhere in the country. Harvey Krotz set the stage for the large-scale, multifaceted car dealerships that exist today.
The dealership sold thousands of cars and trucks every year in the Listowel community, with an advertising budget that surpassed dealerships far and wide. Throughout the 1970s, it was not uncommon for Harvey to spend upwards of $50,000 on advertising — no small feat in the days before digital! Harvey boasted that he had "enough plans to last him 100 years," and we are proud to carry on that legacy with many plans in the works for the Listowel community. Harvey was not only the store owner, but its top salesman who sold 200+ units per year, for many years, boosting the company's overall profitability.
Harvey did this all with a soft spoken demeanor, never raising his voice and always taking into consideration the voice of those around him. Whether he was talking shop with his staff, running the show, or selling cars, what you saw was what you got. Just like Harvey, the owners and staff of Listowel Ford have nothing to prove — we strive for transparency and authenticity in every transaction!
It's that tough Krotz work ethic that we still carry forward at the All-New Listowel Ford, stopping at nothing to make sure our customers always walk out the door happy. Brent Ravelle was proud to acquire what is now called Listowel Ford in late 2017. He has a strong presence in the Listowel community, as he also owns Listowel Chrysler, across town. He is excited to take on the challenge of perpetuating the legacy of Harvey Krotz and will do so with the same values that entrenched Harvey Krotz Ford — by providing exceptional, courteous service to the community of Listowel and beyond.
To learn more about our heritage, get your vehicle serviced, or purchase a new Ford or pre-owned vehicle, don't hesitate to visit Listowel Ford today at 1199 Wallace Ave., North, in Listowel today! We strive to make things easy for our customers, so feel free to contact us online to book your service appointment, browse our vast new and used inventory, or order accessories. We look forward to assisting you!